Decatur's Scovill Golf Club a shot-maker's muni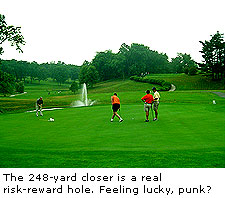 DECATUR, Ill. - When you head out to your local municipal course, you don't expect the amenities and course design to compare to those at a high-priced, big-name track. And if you happen to be in central Illinois, you certainly don't expect to find 50-foot elevation changes and thick stands of massive hardwood trees.
Of course, if you live near Decatur, your expectations might be pitched a tad bit higher. In fact, Scovill Golf Club, one of the four courses run by the Decatur Park District, not only has hills and trees, its Thomas Bendelow layout shares a pedigree with some of the most storied courses in the nation. A visit to Scovill-or any of the other Decatur munis-will make you reconsider your expectations of municipal golf.
History and strategy
Scotsman Thomas Bendelow is often called the Johnny Appleseed of golf in North America. During the first third of the 20 century, Bendelow designed and built golf courses from coast to coast across America, including some of the most famous tracks in the game: Medinah, Dubsdread at Cog Hill, and Olympia Fields. One of his mid-1920s designs was Scovill Golf Club.
Scovill displays all of the earmarks of a classic, early 20th century layout: Short length (5,929 yards from the back tees), tight fairways, blind landing areas and elevated greens that obscure the putting surfaces from view on approach shots. This sort of design is often termed "target golf," and it has widely fallen out of favor with the players of today. After all, what fun is it to hit a 280-yard drive if you can't see it land?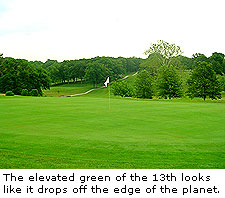 But this is precisely the point of a shot-maker's course such as Scovill: On most holes, there's no need to hit your driver; a fairway wood or long iron will suffice nicely. But you'd better place that tee shot precisely, no matter what you hit, because overhanging limbs and severe doglegs force even the most skilled players to pull out every trick in the book to avoid disaster.
Hillary Anderson, daughter of Decatur Park District's Director of Golf Richard Anderson and a junior on the Illinois State University women's golf team said, "I don't like (Scovill). It's target golf and it takes the driver out of your hands" on so many holes.
How it plays
Scovill is indeed one of those courses that you either love or hate. Big hitters and those of us lacking in control can easily get frustrated here, especially on the 13th-16th holes, where cramped conditions result in shouts of "fore!" echoing through the trees and valleys and golf balls routinely whiz and clatter through branches overhead.
But for those golfers with an eye for design and enough control over themselves and their shots to maneuver over hill and dale, avoiding the omnipresent creek and ubiquitous trees, Scovill is truly a treat.
Scovill was renovated in 1991 by Dick Nugent, who left most of the original features in tact. One thing he did add were very deep, very intimidating bunkers, both in the fairways and surrounding the greens.
Earlene Leinweber, a frequent golfer at Scovill, said that she likes the course, except for those bunkers. "I hate the sand," she said. Her husband agreed and is also not terribly fond of all the arboreal hazards.
The nature of the course is evident from the very first hole, which is a 475-yard par 5, running uphill and doglegging right from the tee. Whether you like this hole - and indeed the entire course - depends on how you conceptualize a golf course: If you like to see it as a painting, a work of art to be taken in en toto by the eye in one view, well, you won't care for Scovill. If you prefer to think of a course as a mystery novel, to be discovered and unraveled as you turn each page, this is a course for you.
Not that there aren't any memorable vistas here. The 165-yard third hole, with its 40-foot elevation drop from tee to green, could have been plucked straight out of any Northern Michigan course. And the hills and valleys on nearly every hole are a stark contrast to other Central Illinois courses, making for a draining walking course, despite the yardage.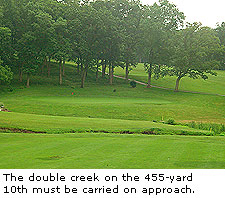 The rule here is short par 4s, but it is a fine collection, with holes 6 (365 yards), 8 (320), 12 (270), 17 (300) and 18 (238) all tempting the foolhardy and/or skillful to play for birdie or eagle. The 18th is especially tempting, as it can be reached with a fairway wood or hybrid, but is guarded on the right by water and on the left by the clubhouse and tee for No. 1 (getting wet is one thing; killing someone is another all together).
The devilish 455-yard par-4 10th is the exception: Here you'll need every yard your driver can get you, as long as you can thread your tee shot through a narrow corridor of trees to a fairway bordered on the left by a creek and on the right by a steep, unforgiving hillside. The ever-present creek creates a deep "V" in front of the green, forcing your approach to carry all the way to the putting surface.
Director of Golf Richard (Rick) Anderson said, "I had the most input on the redesign of this hole." Gee, thanks, Rick.
The stretch of holes encompassing No. 13 (505 yards), No. 14 (515) and No. 15 (416) are perhaps the toughest of the lot. Tee shots on each either need to stay short of or carry the creek, and all of them run from elevated tees down into valleys and back up - way up - to occluded greens. And the greenside trap on the 13th is particularly evil.
The verdict
With green fees of $20.50 on weekdays ($23.50 weekends), Scovill Golf Club is worth at least one visit for any golfer. And if you want to score well here, you'll have to make several visits, because this course is a mystery novel, not a painting.
As Anderson says, "The length won't protect these holes, so we have to use water and bunkers and thick rough to do it."
The main thing here is to be prudent in club selection and play to the right spots. Very little is gained from trying to blow over or past the logical landing areas.
The greens were very receptive, but also quite slow on the day I visited. The bentgrass has been slow-growing this year due to a lack of rain and some over-applied herbicide, so they had been left to grow a bit longer than usual.
The Bendelow-Nugent putting surfaces though are extremely subtle and, even when rolling true, leave first-timers scratching their heads. Of course, not being able to see most of them from the fairway doesn't make for a lot of short first putts, at least not for the uninitiated.
Despite a lack of length, the par-71 track offers plenty of challenge - maybe too much.
'If they didn't put the creek through it, it wouldn't be so bad," said Earlene Leinweber. "The creek is everywhere and everywhere I want to be."
Nevertheless, Scovill has been recognized by Golf for Women magazine as one of the top 100 in the nation for women.
As with all of the Decatur Park District Courses, the clubhouse and pro shop at Scovill feel more like those of an upscale daily fee course, rather than a muni. The grill room and deck offer lovely views of the rolling course and banquet facilities are also available.
Scovill is also a First Tee Program practice center and offers clinics and programs for golfers of all ages.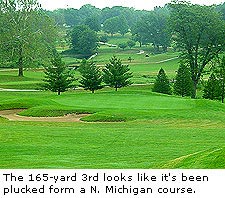 Although some golfers might get a bitter taste when they take a bite from this little course, others will be very grateful that the Johnny Appleseed of golf planted it here to grow into a real local treasure.
Places to stay
All the Decatur hotels offer some sort of package with the Park District courses. The Holiday Inn's deal is $80 per person per night and includes one round of golf with a cart on any of the courses.
Anderson confides that if people want to stay one night but play two rounds, they'll get a discount on that second round, too. Call the Decatur CVB at (217) 423-7000 for a list of stay and play packages.
Places to eat
The dining scene in Decatur isn't exactly world-class, but for down-home comfort food like chicken and walleye, try The Wagon (1987 N. Jasper, 429-2260). The Bakery (104 E. Prairie, 422-4444) in downtown Decatur has the best breakfast fare.
Fast fact
When the Raymond Floyd Signature Course (which is as of yet unnamed) opens in 2006, Faries Park Golf Course , another Park District layout, will close. So if you want to check that 6,800-yard Roger Packard design out before then, get there in 2005.
August 11, 2005