Grand Geneva Resort one of Wisconsin's best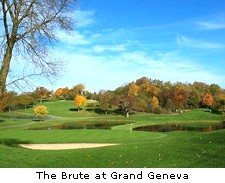 LAKE GENEVA, Wisc. -- Main Street in Lake Geneva, Wisconsin reminds one of Mayberry, that idyllic, old-fashioned southern town brought to life on TV's "Andy Griffith Show". There are ice cream shops, cozy diners and friendly people and at least one local waitress who looks a little like Aunt Bea. But unlike the made-for-TV town of the 1960's, Lake Geneva has a racy past, a sexy side that is at least partly responsible for putting one of its most famous attractions on the map.
In 1968, what is known today as the Grand Geneva Resort was then The Playboy Hotel and Country Club. There were scantily clad Playboy Bunnies, celebrity shows from Sonny and Cher, Bob Hope and Sammy Davis Jr., fancy restaurants and swinging lounges. And not a single waitress looked a thing like Aunt Bea.
Although golf has always been a major part of the resort, things certainly have changed since the late 60's and the Grand Geneva Resort is a far different place. Now, it caters to families, couples and foursomes with the main focus on the subtleties of putting surfaces not shapely young ladies in skimpy one-piece bathing suits and bunny ears.
The Resort
The Grand Geneva is the largest resort in Wisconsin, and because it's just over the border from Illinois and only 90-minutes from Chicago, it is one of the Midwest's most popular.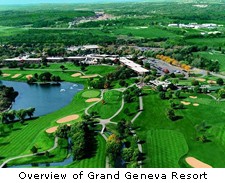 Within the last year Grand Geneva completed a huge renovation project to update its 355 guestrooms and 37 suites, and add a full service spa. The biggest transformation to the spa is the creation of a 10,000 square foot sport and activity center that includes basketball and volleyball courts and a rock-climbing wall.
The changes to the rooms are extensive. New custom-made beds have been rolled into each room and a completely new color-scheme has added spring and summer hues to the look. New soft lighting and artwork helps to make the rooms quite inviting.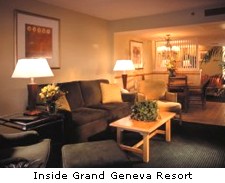 Grand Geneva covers more than 1,300 acres, has its own airport, offers 50,000 square feet of meeting space and three critically acclaimed restaurants. There are also 15 runs on its ski hills and a new companion attraction called Timber Ridge Lodge and Waterpark, a 225-suite resort with a giant water slide, inner tube floating area and a barbecue restaurant made for families.
But for many, golf is the reason to come to Grand Geneva.
The golf
Grand Geneva continually is recognized as one of the most acclaimed golf resorts in America's heartland. It's been recognized by GOLF magazine five years in a row as a Silver Medal Resort and its two courses, The Brute and The Highlands, are compellingly complimentary. The courses are like two brothers who get along famously, but have completely different personalities.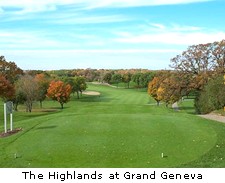 The similarities: Both are in excellent condition, both dramatically tumble and roll through the Wisconsin hills, and both are no-nonsense challenges.
The differences: One is long. The other is short. One loves water, the other doesn't. One has been in the Hollywood spotlight, the other likes to be quietly famous.
The Brute
The Brute takes after its name. It's the tougher of the two playing at over 7,000 yards and has had a bit more star status. In 2001 and 2002, this Robert Bruce Harris design, hosted the Tom Dreesen Celebrity Invitational on the Celebrity Players Tour and it was the backdrop for the taping of Comedy Central's golf show "The Sweet Spot" staring Bill Murray and his brothers.
The Brute has more than 68 bunkers and some of the largest greens of any course in Wisconsin or Illinois. The two most memorable holes are the 6th and the 18th.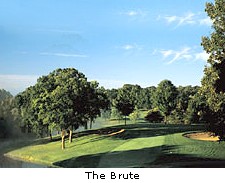 Six is a par-5 and the No. 1 handicap hole. From the back tees it stretches to 520 yards and gives you a big risk-reward option on your second shot. In the middle of the fairway is a large lake, (some of that lovable water), making flirting with going for the green in two an intimidating decision.
The 18th is a long par-4. From the back it's 464 yards but even from the regular tees it's still a haul at 437 yards. Fairway bunkers on the right side can play havoc with an out of control fade.
The Highlands
The Highlands originally was created by Pete Dye and Jack Nicklaus in 1970 and redefined in 1997 by architect Bob Cupp. It measures out at 6.633 yards; short by today's standards. But it is far from an easy test mainly due to some of the trickiest, most strategic, short par-4s anywhere.
Nos. 8, 10 and 15 are superb designs. Not one of them is over 320 yards from the championship tees and each has a rolling, up-and-down fairway with few flat lies and a green with devilish undulations. These are the best of the thinking man's holes.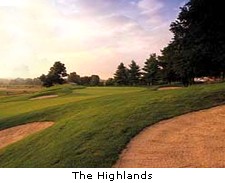 The Highlands also has four wonderful par-3s. The shortest is 153 yards from the blue tees and the longest is 199 yards. The favorite of many is the 146-yard 7th. It calls for a daring shot over a cavernous valley to a pin that is many times tucked left and dangerously close to the green's edge. An errant shot will take a big fall down a grassy hill.
Golf Extras
Good golf resorts don't skimp on the extras and Grand Geneva is better than good.
The Links at Grand Geneva, the name for the entire golf complex at the resort, has two practice greens, a full practice range with synthetic and natural hitting areas, full locker room facilities, rental clubs and shoes, and a variety of lesson packages.
There's also a Grand Geneva membership available that allows you to gain premier service for tee times, a personal locker, and special privileges for lessons and practice.
Grand Geneva Resort
7036 Grand Geneva Way at Highways 50 and 12
Lake Geneva Wisconsin
(800) 558-3417
grandgeneva.com
The Brute - $135
The Highlands - $120
Reviews
The Brute
Conditions: 5
Value: 4
Service: 4
Design: 4
The Highlands
Conditions: 5
Value: 4.5
Service: 4
Design: 4
Where to eat
Grand Geneva Resort
Newport Grill - Steaks, chops, seafood
Grand Café - Sandwiches and buffets
Ristorante' Brissago - Italian
In Lake Geneva Fran's Café - Homestyle breakfast and lunch, (262) 248-9966
Gilbert's - Award winning restaurant on the lakefront, (262) 248-6680
Be sure to go into downtown Lake Geneva and enjoy this small town, old-fashioned vacation spot. And don't miss Annie's Ice Cream Parlor on Main Street. It's the way ice cream shops should be. (262) 248-2463
Directions
From Chicago - I-94 north to Route 50 West.
From Milwaukee - I-43 south to Route 12 to Route 50.
Other Area Courses
Abbey Springs
(262) 275-6111
abbeysprings.com
Hawk's View Golf Club
(877) HAWKS VU
hawksviewgolfclub.com
Geneva National
(262) 245-7000
genevanationalresort.com
October 7, 2003