Golf skills of Illinois coach are no Small wonder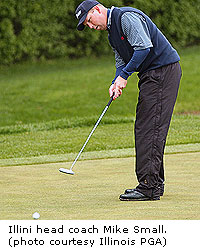 CHAMPAIGN, Ill. - University of Illinois Varsity Men's Golf coach Mike Small can relate to his players as they compete this season for a Big Ten title they have not won since 1988. And likewise, the players hope to someday relate to their coach's experiences in tournament play.
Small has had an outstanding competitive season in 2004, especially for a man who has two small kids and a "real" job for the last four years as the Illini head coach. His accomplishments include a second place at the PGA Club Professional Championship, a top 27 at the Cialis Western Open, and an exemption to compete in the PGA Championship at Whistling Straits.
Despite missing the cut at the PGA Championship, Small has plenty of stories and tips to share with his team this year, including his practice round with defending champion Shaun Micheel.
Small, 38, began his coaching career at the University of Illinois in 2000. Prior to settling down in Champaign-Urbana, he played 40 events on the PGA Tour, and was a regular on the then-Nike/Buy.com Tour, where he won three times. His best finish on the PGA Tour was a top nine at the Bell Canadian Open in 1998. Small has also played in two U.S. Opens: at Olympic in 1998 and Oakmont in 1994.
Prior to the 1994 Open, Small even got to play a practice round with the late Payne Stewart, which he calls his favorite U.S. Open memory.
Small's outstanding 2004 began at the PGA Club Professional Championship, held at Longaberger Golf Club in Nashport, Ohio. Small, a man of few words and even less time on this first day of team practice, described the Golf Digest 5-star track as "pretty good."
He was unaware, though, of the controversy surrounding the winner of the tournament, Bob Sowards. According to GolfWorld, Sowards was required to fax 58 pages of his lesson book to the PGA to prove he was in fact a teaching pro, rather than a touring pro as some contestants had alleged before the tournament.
"I have no thoughts on that," said Small. "I didn't even know it was an issue."
Controversy aside, the second place finish netted Small $39,000 and an entry into both the Cialis Western Open and the PGA Championship.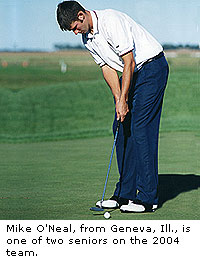 At the Western, played at Cog Hill in Lemont, Ill., Small not only made the cut, he played both Saturday and Sunday in one of the last few groups of the day. On the penultimate day of competition, he was paired with Jim Furyk and Shigeki Maruyama. On Sunday, he was in the sixth to last group.
Besides the thrill of PGA competition - and finishing in the top 27, better than Tour mainstays like Jerry Kelly, Rich Beem, and Shigeki Maruyama - Small said his favorite memory of the weekend was "getting to play on national TV. My wife and kids were even interviewed on TV."
Small also beat his old college teammate and good friend Steve Stricker for the second year in a row at the Western Open. Stricker, who played with Small on the 1988 Big Ten Champion Illini Golf Team, returns to campus every year for the Steve Stricker Golf Classic, benefiting the team. 1988 was the only time since 1941 that Illinois has captured the conference men's golf title.
The coach's stellar play in Ohio and at the Western propelled him into the PGA Championship at Kohler, Wis., Small had played the course once before, and in his characteristically laconic way, described the Pete Dye layout, "a pretty good course." He did elaborate on one point, however: "I have issues having to lay up on a 480-yard par-4 (the 18th at Whistling Straits), and the green was out of character, but other than that, it held up as a major venue."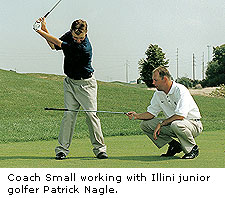 Small shot 75-76 at the PGA to miss the cut, which he blamed on "not driving it in the fairway often enough, and putting horrible."
Despite the slight blemish on his summer's achievements, Small hopes that his success on the course will translate into recruiting success for the Men's Golf Team. "We'll find out on National Signing Day in November," said Small, "but it helps to break the ice, and lets [the recruits and their parents] know who you are."
Small described The Fighting Illini team this year as "all capable." "It'll be a good year for some guys to step up and show what they can do," he continued. There are nine players on the varsity team, five of which travel to tournaments. The team is diverse, with two seniors, two juniors, two sophomores, and three freshmen. Three of the team hail from California, one from Washington, D.C., one from Alabama, one from Wisconsin, and three from Illinois.
With the first tournament of the year -The Inverness Intercollegiate - just two weeks away, Small has his work cut out for him in this admittedly unsettled season. As the Big Ten runner-up three years straight, Small would relish another championship, this time as a coach. Such a performance would likely earn him a second conference Coach of the Year Award, as well as provide his young players with the sort of experience they'll need if they want to follow in their coach's spike marks.
February 2, 2005